Raw unfiltered honey is a probiotic
Studies have shown that the antioxidant lycopene (especially against sunburn) in the form of cooked tomatoes or tomato paste is better absorbed by the body than in the form of raw tomatoes. The reason for this is the greater bioavailability of lycopene in cooked tomatoes.
You can also choose an organic tomato paste made from field tomatoes. This not only increases the lycopene content, but also scores points in terms of taste and does not contain any pesticides.
Make ketchup with apple cider vinegar

In contrast to brandy vinegar, raw, unfiltered apple cider vinegar is a real treat for the body. It helps with heartburn, joint pain and stiffness, regulates the intestinal function, supports weight loss by breaking down fats and gives a beautiful complexion. Apple cider vinegar of this quality is primarily found in health food stores. Regular supermarkets, on the other hand, mostly sell pseudo apple cider vinegars, i.e. simple white vinegars that have been pepped up with artificial aromas, flavors and colors. You can also make apple cider vinegar yourself.
Raw honey in ketchup
While refined sugar and glucose or corn syrup put a strain on the body, raw honey is a natural, healthy sweetener. In addition to valuable vitamins and minerals, it is valued primarily for its antioxidants. Raw honey has an antibacterial effect and soothes inflammation.
Most commercially available honeys have been heated (pasteurized), filtered and have lost most of their vital substances during industrial processes. You should therefore always buy organic quality honey directly from the beekeeper or in organic shops. By the way, natural honey does not always have to crystallize, as is often believed. There are also liquid organic honeys, as the consistency of honey depends on its fructose / glucose ratio. Acacia honey, for example, is high in fructose and therefore remains liquid.
Allspice is a great seasoning for ketchup
Allspice gives your homemade ketchup the right flavor. But not only that, the dried spice also curbs the appetite, stimulates digestion, stabilizes the blood sugar level and has a pain-relieving and relaxing effect. In addition, allspice provides antioxidants and has an antibacterial effect.
Ketchup and cloves
In addition to their intense taste, cloves give us various health benefits. Their antioxidants can neutralize free radicals in our organism and thus prevent diseases. They also support the digestive system and naturally relieve heartburn, nausea, inflammation and joint and toothache. Similar to allspice, cloves also have antibacterial properties and can thus protect our body from unwelcome guests.
Sea or crystal salt
Instead of the inferior table salt, as is usually found in the bottled ketchups, natural crystal or sea salt provides us with essential minerals and trace elements. Free of chemical additives, it contains the neutralizing natural power of oceans that are thousands of years old. High-quality salt (e.g. Fleur de Sel) gives our recipes the natural pizzazz and can also be used for external healing applications.
Homemade ketchup recipe:
Here you will find our recipe for making the ketchup yourself.
display
Distance training to become a holistic nutritionist
Are you interested in what's in our food and want to know how nutrients and vital substances affect the body? Do you want a healthy life for yourself, your family and fellow human beings? Nutritionists are popular - but the holistic aspect that is needed for sustainable health is often forgotten when giving advice. At the Academy of Naturopathy, you will get to know the connections between lifestyle and diet as well as physical and psychological well-being.
That educates interested people like you in around 16 months to become a holistic nutritionist out.
Is this article worth reading?
Share this article
swell
"Tomatoes: 250 grams every day" medical report 2004
Group E "The Benefits of Apple Cider Vinegar" Clobal Healing Center 2008
Griffis S "Properties of Raw Honey" Live Strong 2010 (The Properties of Raw Honey)
Lessard M "The little story of ketchup" arte 2008
Müller-Burzler H "The seven pillars of a healthy diet" Henning Müller-Burzler 2010
Gibble S "The Health Benefits of Allspice" Yahoo! 2008 (The Health Benefits of Allspice)
Notice on health issues
This information is passed to the best of my knowledge and belief. They are intended exclusively for those interested and for further training and are in no way to be understood as diagnostic or therapeutic instructions. We do not assume any liability for damages of any kind that arise directly or indirectly from the use of the information. If you suspect illness, please consult your doctor or alternative practitioner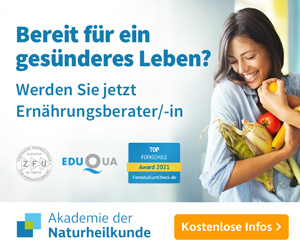 Subscribe to Newsletter
Exciting information about health and nutrition
1x per month
Login Successful. You will shortly receive a confirmation at the specified email address.
With your registration you allow the regular sending of the newsletter and accept the data protection regulations.
HEALTH CENTER © 2021 Neosmart Consulting AG. All rights reserved.