How to find the right refrigerator
When buying a new refrigerator and / or fridge-freezer combination, you should pay particular attention to the required size, because power consumption depends on the size of the appliance and the temperature set.
100 liters more volume increases consumption by 20 percent. For Single or two-person households are usually enough 100 to 150 liters Usable content. If more people live in the household, you can go with it 50 liters per person calculate. For orientation: an economical A +++ refrigerator with a volume of around 150 l should not consume more than 65 kilowatt hours (kWh) per year.
How you can recognize energy-saving devices
The EU energy label sticks to every device and provides information about energy consumption on the Internet. New energy efficiency classes have been planned for this since March 2021. In the case of refrigerators and freezers, these are between A and F. The new classification makes sense, as almost all devices now fall into a class with an A and plus signs. A distinction in terms of energy efficiency was difficult. Now the classification of the devices is to be spread over more energy classes so that you can find more economical devices more easily.
However, it will initially be difficult for device manufacturers to achieve the best possible class A. This will probably only be possible through additional efficiency improvements. The fact that the classification has only started at C since March, even for devices that are currently very efficient, is only due to the new classification, not because the devices have become worse.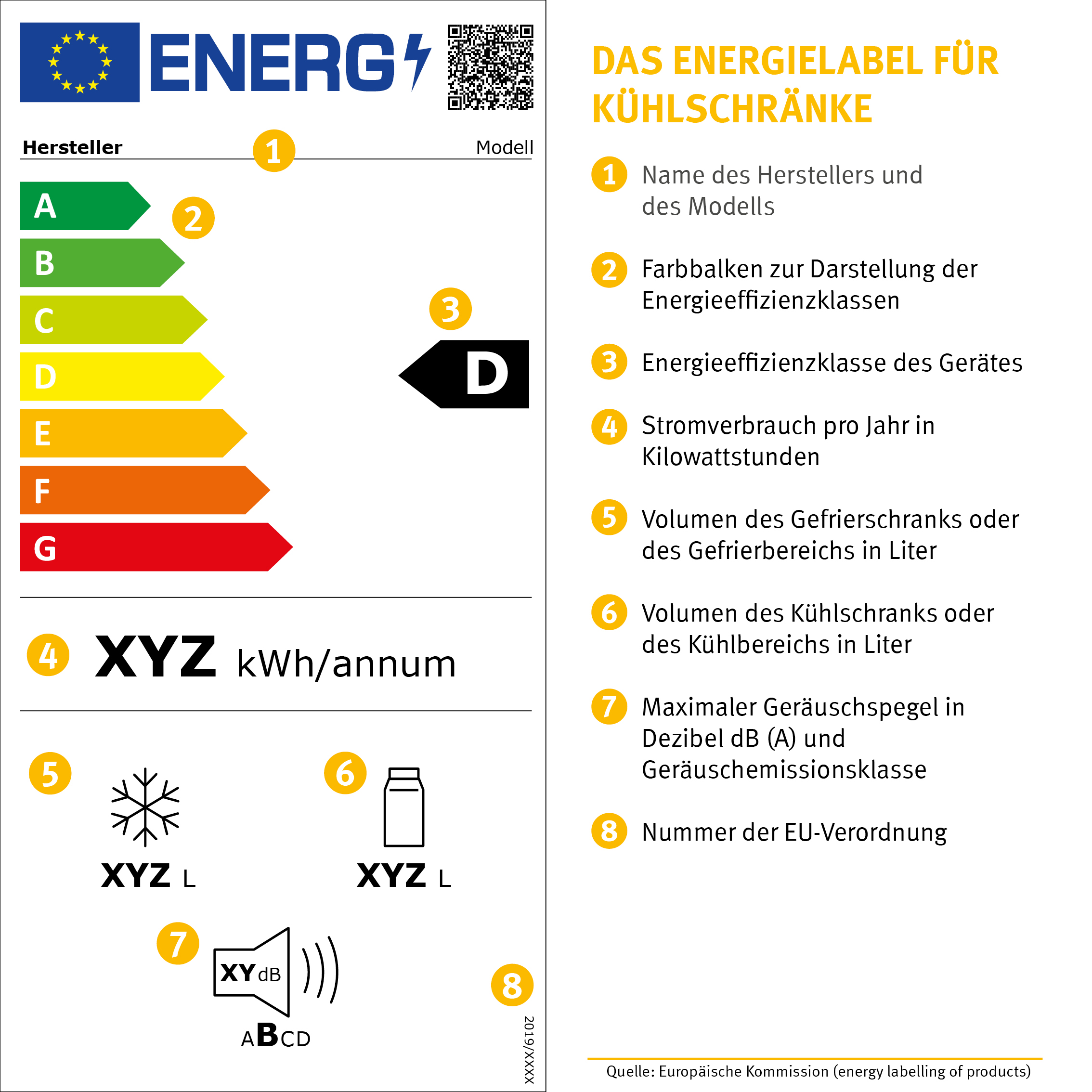 Also new on the label is a QR code that leads to the new European EPREL database. There you will find additional product information. Other symbols on the label provide information about other consumption values ​​that help to compare different devices with one another:
The milk carton stands for that Cooling volume.
The snowflake for that Freezing volume.
Sound waves from a loudspeaker symbolize the volume: The smaller the numerical value, the better. Particularly quiet devices have less than 38 decibels (dBA). The new noise emission classes under the loudspeaker are for orientation: A is particularly quiet and D is particularly loud.
If you want to consider other criteria besides power consumption, it is advisable to always look at independent product tests, such as those from Stiftung Warentest.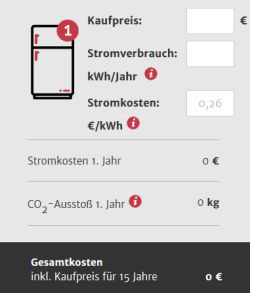 Our fridge calculator will also help you decide on a new one. It not only compares the individual costs of new devices, but also shows how high the CO2 emissions are in the first year. All you need to do is enter the purchase price and the annual electricity consumption that is stated on the label into the calculator. You can already see the total costs over 15 years and can compare different models with one another.