Airplanes hover on the water
The hydrogen airplane is taking shape
The latest aircraft design from Airbus does not look like an aviation revolution, floating in the cloudless sky to spherical music. On closer inspection, it is noticeable that there are no windows in the rear third of the fuselage of the Airbus aircraft study. On top of the tail unit there is a short extension that looks more like an antenna. These characteristics indicate that this is indeed a potentially groundbreaking novelty.
"The hydrogen tank is located in the rear third of the fuselage behind the pressure bulkhead of the cabin, and the extension at the top of the tail unit is used to vent gas in the event of a leak," said Airbus technology director Grazia Vittadini when the first drafts of future-oriented aircraft were presented Hydrogen propulsion. The goal is ambitious: Airbus wants to bring out the world's first emission-free commercial aircraft by 2035.
"Historic Moment"
The European manufacturer has three different concepts, one of which is to be implemented, including the more conventional-looking jet. Under strong political pressure, especially from France and Germany, Airbus wants to lead the transformation in order to promote the move away from fossil fuels and thus decarbonization for aviation. Germany has already developed its own hydrogen strategy, and France announced at the beginning of the month that it would invest seven billion euros in hydrogen technology over the long term. The move by Airbus fits exactly into the picture.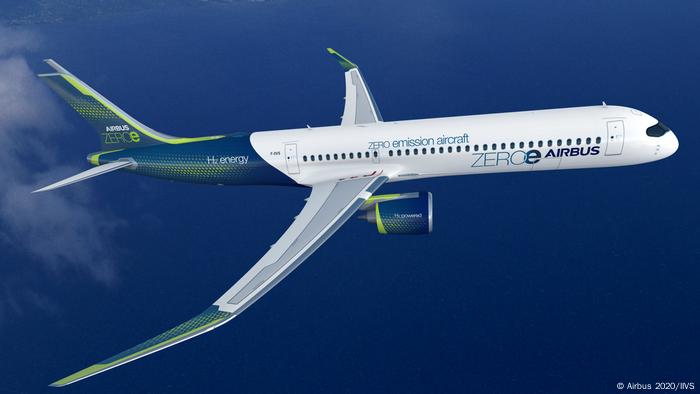 One of three variants: The turbofan concept (computer animation)
"This is a historic moment for all of commercial aviation," said Airbus CEO Guillaume Faury of his "bold vision". Head of Technology Vittadini emphasizes that these "exciting concepts are also intended to inspire future generations of engineers."
Not a new idea
The idea of ​​using hydrogen instead of kerosene as an energy source for aircraft engines is not new, but it is still difficult to implement. As a result, there has been a lack of commercially viable aircraft concepts that are suitable for everyday use. Because hydrogen is not easy to care for: it has three times the energy density compared to kerosene - a major advantage over batteries - and weighs only a third as much, but requires up to four times more volume than conventional fuel. And space on board aircraft is notoriously scarce and precious.
In addition, and this makes it particularly challenging, hydrogen is a so-called cryogenic fuel: a gas that can only be used as a liquid and compressed under high pressure for drives at minus 253 degrees Celsius. Which in turn requires a double-walled, cylindrical or spherical tank. As early as 1988, engineers in what was then the Soviet Union brought out a modified version of their three-engine Tupolev TU-154 passenger jet; they named the test aircraft TU-155, the right engine of which was powered by hydrogen. Hydrogen can be used in various ways for aircraft: for direct combustion in converted gas turbines, converted into electrical energy by fuel cells, or it can be used to produce synthetic kerosene in combination with CO2.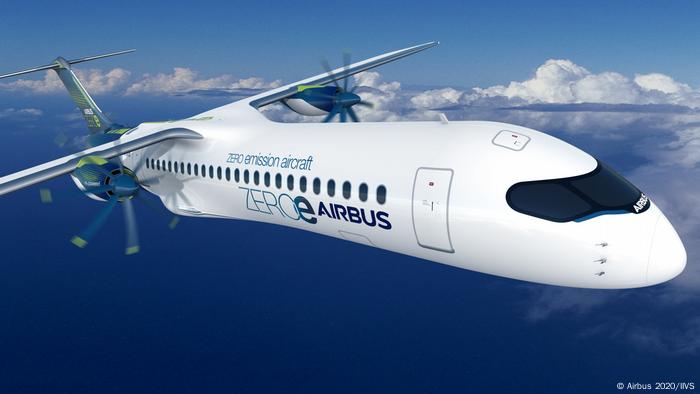 The turboprop version of the concept aircraft in the computer animation
Not for transatlantic flights
"We have to redesign the aircraft around these conditions," says Grazia Vittadini. Airbus is now trying to do this with a trio of suggestions. The so-called turbofan design described at the beginning, which is supposed to carry 120 to 200 passengers over distances of around 3700 kilometers, so it does not manage long-haul or transcontinental flights in America, but all intra-European routes. The concept is a little smaller than the current base model A320neo, which flies at Lufthansa, for example, but reaches the same speed with a good 800 km / h even when powered by hydrogen.
The second design is a turboprop aircraft with propeller drive for up to a hundred passengers on short journeys, which, at a good 600 km / h, would be around a hundred kilometers per hour faster than today's turboprops. Both designs are powered by modified gas turbines, supplemented by a hybrid electric motor powered by fuel cells, and deliberately kept conventional. "We don't have to invest in completely new technologies for this," explains Airbus boss Faury.
There is also a disruptive concept - a hydrogen-powered flying wing, the so-called Blended wing body. Here the wings and fuselage form a continuous aerodynamic body. This configuration, most recently presented by KLM and TU Delft with their Flying V concept, is already considered to have a promising future. "The flying wing is aerodynamically the most advantageous model for integrating the hydrogen tanks," Grazia Vittadini told DW. "But that doesn't mean that this is also the optimal solution for the other parameters."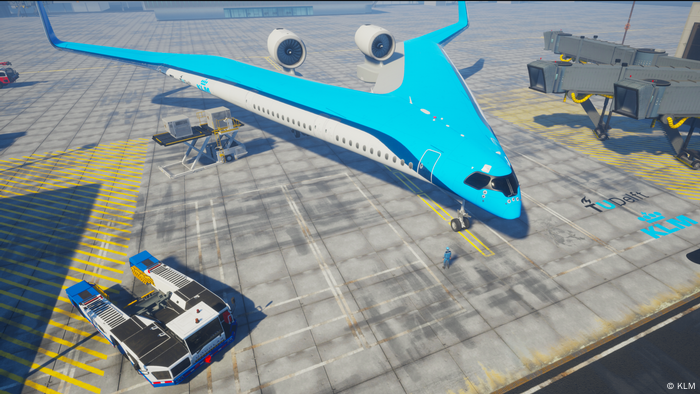 Computer animation of the Flying V model from KLM and TU Delft
Not entirely emission-free
The Airbus initiative is also well received in science. "The world is ripe for it and Airbus has seized the opportunity," Dragan Kozulovic, professor of aircraft engines at the Hamburg University of Applied Sciences (HAW) told DW. It is remarkable that the studies managed entirely without kerosene, and the planned market launch by 2035 is quite realistic.
Kozulovic considers the realization of the design of the hydrogen-powered turboprop aircraft to be the most likely. The decisive factor for success, however, is that the necessary infrastructure on the ground for the commercial use of hydrogen is created, from production to storage and refueling, "that is a mammoth task".
Hydrogen is only sustainable if it is produced using green electricity from solar or wind energy, for example. The professor defends himself against the labeling of the ZEROe named Airbus concepts as "emission-free". Because even without CO2 generation, the combustion of hydrogen continues to produce water vapor as an emission, which triggers climate-relevant contrails in the sky. Nitrogen oxides would also continue to be released. "These aircraft would be much better, but not emission-free," explains Dragan Kozulovic.
The end of the giant aviators

Farewell to Sydney

Qantas CEO Alan Joyce has retired the last Boeing 747 in his fleet. The last trip leads to the California Mojave Desert. Qantas was once the only airline in the world with a 747 fleet. A total of 30 Jumbos are currently still in use around the world, most of them as freighters.

The end of the giant aviators

Bye Bye Jumbo in London too

At the end of last week, British Airways announced that it would shut down its entire 747 fleet early and with immediate effect. "With the decline in travel caused by the COVID-19 pandemic, it is unlikely that our 'queen of the skies' will ever again offer commercial services to British Airways," the airline said.

The end of the giant aviators

Crowds on the first flight

The first commercial flight of the Boeing 747 with PanAm was on January 21, 1970 from New York to London. Around 9,000 people had registered for the premiere, in the end only 360 could fly with them and only with obstacles. After one engine overheated, everyone had to transfer to a replacement machine, which then started almost seven hours late.

The end of the giant aviators

Glamor of the queen of the skies

Until the end of the 1960s, flying was something for the wealthy. Now, thanks to cheaper tickets, normal wage earners could also afford flights. Still, the 747 was not easy to fill. Since air prices were still set by the state at that time, the airlines lured with luxury such as cocktail lounges with sofas and kidney-shaped tables in the rear. To date, the 747 has carried almost six billion people.

The end of the giant aviators

The oil crisis also slowed the Boeing 747

A few years after the brilliant start, the 1973 oil crisis stifled enthusiasm for the Jumbo. Many airlines have had to leave their 747s on the ground because it was simply too expensive to get in the air. Aircraft orders have been canceled. It was not until the mid-1970s that the jumbo jet became the dominant long-haul aircraft.

The end of the giant aviators

Long-haul icon revolutionized aviation

Over the past five decades, the 747 has helped transform global air travel. Airports were expanded into huge hubs, because with the huge jumbo jet many passengers could be transported over long distances at the same time, in order to be flown on to regional airports in smaller planes.

The end of the giant aviators

Assassinations, technical problems, human error

There were also tragic events in the jumbo jet era, such as the Lockerbie bombing in 1988 (picture) or the collision of two 747s on the runway of Tenerife Airport in 1977, in which more than 500 people were killed. Several Boeing 747s lost a complete engine in flight. As a result, a freight version fell on a house in Amsterdam.

The end of the giant aviators

747 hardly asked for in the end

The industry is now relying on smaller machines with two engines that use less fuel. According to industry circles, Boeing ordered the last parts for the 747 from its suppliers at least a year ago. With a construction rate of half an aircraft per month, the program still has more than two years ahead of it, according to a company spokesman.

The end of the giant aviators

The US President continues to fly 747

According to Bloomberg, the dozen or so aircraft ordered from Boeing are all freight versions of the 747, and in the passenger area no new jumbos have been ordered for years. The last order came from 2017, according to the Reuters news agency. The US government ordered two 747-8s as Air Force One for the president.

The end of the giant aviators

Airbus no longer produces either

In total, more than 1550 model 747 machines have been delivered in over 50 years. The European competitor Airbus gave up its prestige A380 project at the beginning of 2019. The production of the giant aircraft will only run until 2021, Airbus announced in February. In total, only around 250 aircraft of the A380 were sold.

Author: Insa Wrede, Henrik Böhme