British are a minority in London
UK: more xenophobia, more crime
It was just before 6 p.m. on September 25th. Nasser Kurdy, 58, was on his way to the Altrincham Islamic Center in Cheshire, northwest England, when he was stabbed in the neck from behind with a knife. The police consider the attack on the Muslim doctor, who volunteered medical care for victims of the attack after the terrorist attack in Manchester, as a hate crime. The attack on Kurdy is part of a worrying trend: hate crimes are on the rise in the UK.
A hate crime in Great Britain is any type of crime that, from the victim's point of view, was motivated by "animosity or prejudice" against his or her gender, sexual orientation, ethnic origin, religion or disability. Official statistics show that the number of hate crimes has increased significantly in recent years. According to the Ministry of the Interior, the police recorded 62,528 crimes in the period from April 1, 2015 to March 31, 2016, an increase of 19 percent compared to the same period in 2014/2015.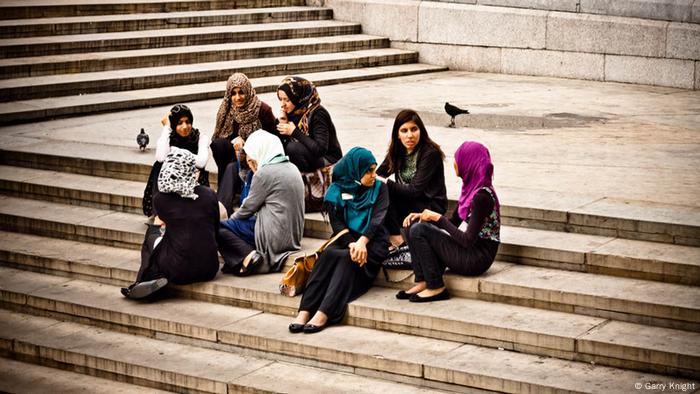 Muslim women in particular are affected by racist and Islamophobic attacks
Azad Ali, an official at MEND (Muslim Engagement and Development, an NGO working against Islamophobia), says that his organization has also noticed an increase in attacks on Muslims. "Our team, which helps victims of Islamophobic attacks, saw an almost 400 percent increase in the number of victims - ranging from verbal abuse and property damage to physical attacks. Our data shows that Muslim women in particular are victims of such hate crimes."
More hate crimes since the Brexit vote
An unprecedented increase in crimes against ethnic minorities and foreigners was recorded shortly before and after the referendum on leaving the EU last June. A United Nations Committee to Eliminate Racial Discrimination sees the "divisive, anti-migrant and xenophobic rhetoric" of the pro-Brexit campaign and the negative portrayal of ethnic minorities, immigrants, asylum seekers and refugees in the British media as responsible.
A cross-party parliamentary group also accused the government in a report of inciting "toxic" feelings against migrants during the Brexit debate. 62 percent of all second-generation migrants - children of immigrants born in England - felt that Britain had become more intolerant since the Brexit vote, according to the report.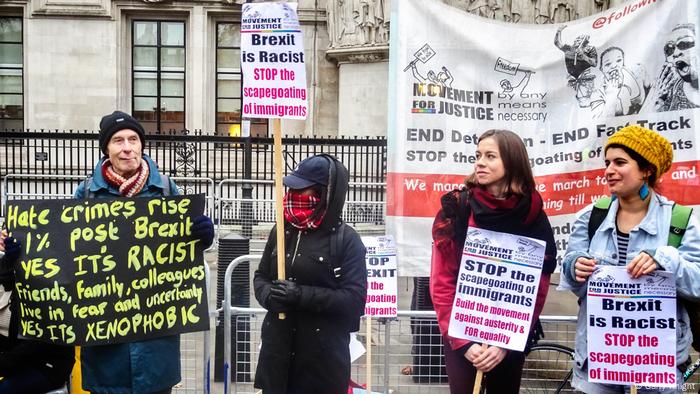 Many Britons are concerned about the rise in racially motivated crimes since the Brexit vote
Ben Ward of the human rights organization Human Rights Watch worries: "There is a risk that Brexit - if not carried out correctly - could lead to intolerant, negative comments about foreigners being seen by some as an invitation to get violent . "
New tools against hate crimes
The UK authorities have recognized the problem and promise to take action. A Home Office spokesman told Deutsche Welle that £ 900,000 (one million euros) had been allocated to local hate crime projects and that more than £ 3 million was being invested in protecting places of worship and other religious institutions.
A new cross-agency working group is currently being set up to deal specifically with Islamophobic violence. In the case of religiously motivated crimes, the police have recently started investigating which religion the crime was directed against. The hope: to identify where a particularly large amount of resources are needed for protection and prevention. "All forms of hate crime are unacceptable, and our action plan improves the responsiveness of police and law enforcement agencies. We want to ensure that victims have the confidence to report such cases," said a spokesman for the group.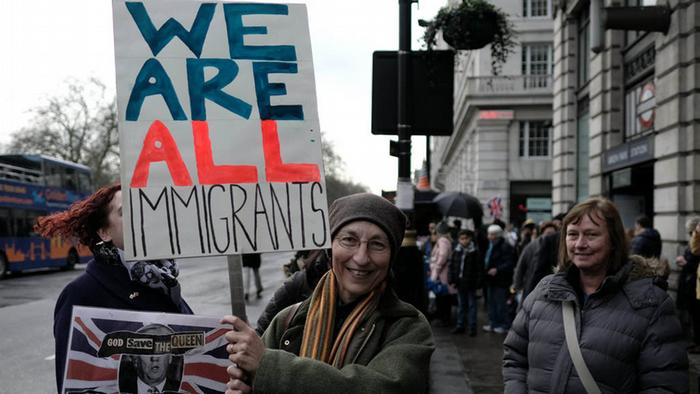 "We are all immigrants" protesters in London
Sophie Linden, deputy mayor for police work and crime in London, told DW: "The mayor and I are clearly pursuing a zero-tolerance policy for hate crimes of all kinds."
Take threats online seriously
The authorities want to take more action, especially against insults and threats online: New guidelines for public prosecutors in England and Wales state that online hate crimes should be taken just as seriously as those offline.
Politicians and the police are taking hate crimes increasingly seriously, but it is not just about individual hate crimes being prosecuted with full severity; they must be viewed in the context of society as a whole in order to counteract trends that create intolerance and hatred.
A spokesman for the Equality and Human Rights Commission said: "Racism and hatred have no place in modern Britain. We need tougher penalties to deter offenders, better understand what triggers hate crimes and how to prevent them, and we need strong evidence that these strategies work. "