How could Quora Spaces be improved?
How to Use Quora for Content Marketing and Keyword Research
Have you ever wanted a platform that, years after your content marketing measures and thanks to the content strategy, still sends traffic to your blog? (In any case, Facebook and Twitter cannot make that claim.)
Then your wish will come true: here is Quora!
If you do it right, this often overlooked question-and-answer platform is an effective tool for sustainable results in content marketing. Even better, Quora traffic is Google-safe.
Many marketers ignore the abundant capabilities of the platform (which reaches more than 300 million users per month), but some lonely heroes capitalize on its strengths and reap the rewards. Game designer Ernest W. Adams is one of them:

Ready to become a Quora Master?
In this guide you will learn:
What is Quora
Why you should use Quora
What are the Quora ranking factors
How to use Quora for keyword research
What is Quora?
Quora is a community where users ask questions and others express their opinions. Every month, 300 million visitors are interested in the broad spectrum of these opinions. In the English-speaking world, many people directly enter "quora" as part of their question on Google to find answers on the platform: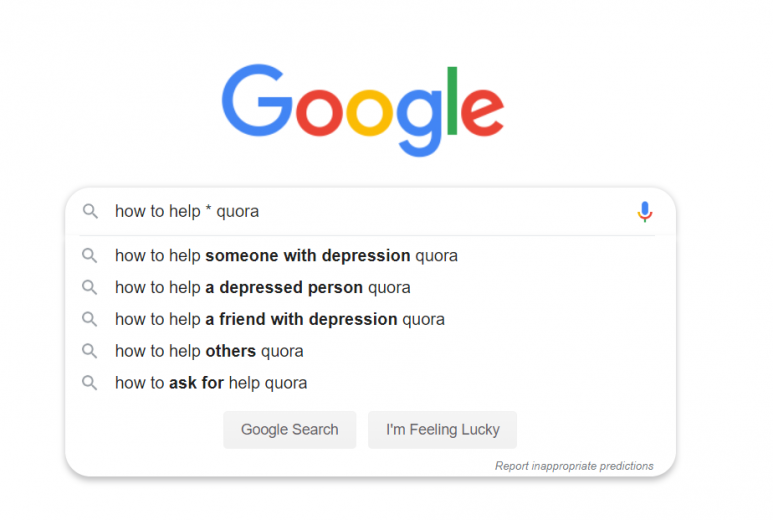 Quora offers valuable answers from experts and stakeholders from all over the world on a wide variety of topics. The German version of the platform also provides answers to the question in the above example, how to help people with depression:
Why you should use Quora
Quora is a way for people and businesses to get traffic by answering questions. The first reason for this is obvious: As Traffic Analytics shows, the site has more than 600 million visits a month worldwide.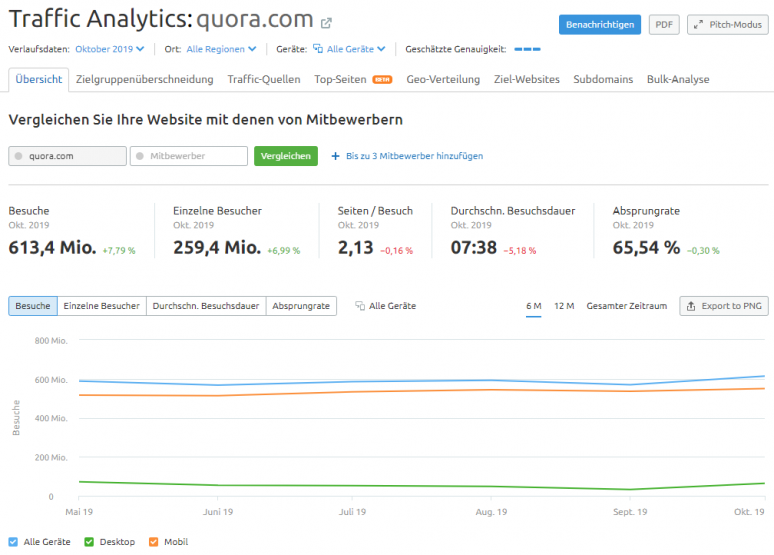 After all, there are 3 million visits in Germany: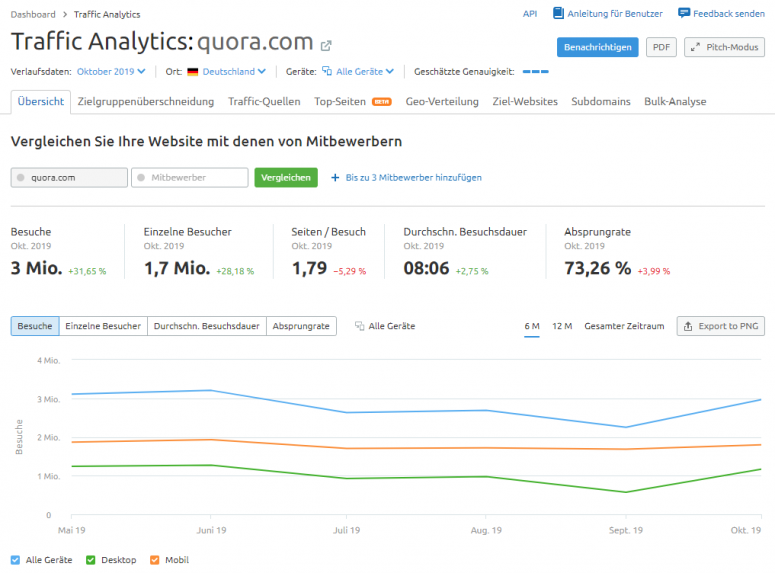 This means that you can expect far greater traffic gains if, in the light of your business goals, it makes sense to (also) address English-speaking users by answering questions in English. But even with a restriction to German-language questions and answers, the visitor potential is great.
And the best?
A major source of traffic from Quora is web search. More than 50 percent of users access the platform via search engines.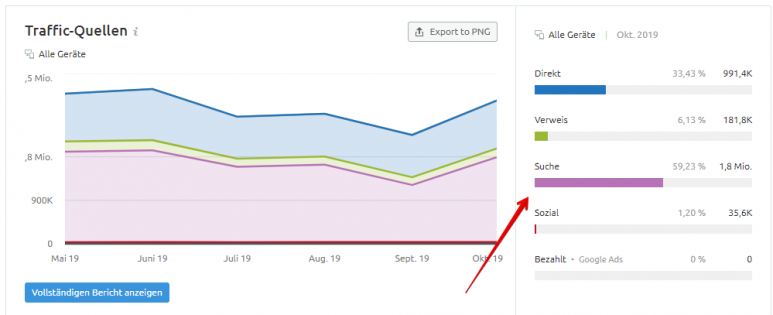 In contrast to Facebook, where search only contributes around 14% to the traffic: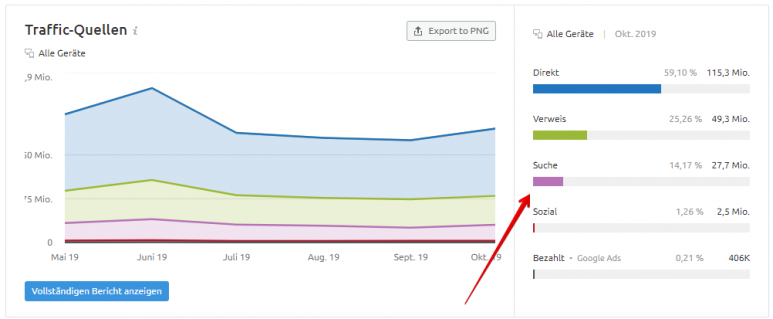 These 14% are likely to search Google for phrases like "delete Facebook account".
The best reasons for Quora:
1. Brand awareness
Quora can increase your brand awareness as countless users see your answers there.
Let's say you run a start-up that sells a productivity tool for entrepreneurs and you don't have the capital to spend on extensive marketing. Use Quora to market your product or blog by answering questions at no additional cost.

This is where you are investing time rather than money building brand awareness. If you spend 30 minutes each day composing an answer, you will see results soon.
Now imagine if you pull this off for two years and every answer is seen by a lot of users. Consistency is the key to success. After years of hard work, your brand will be visible to many people who will also be happy to take advantage of your commercial offer.
2. Traffic
Traffic is the backbone of this strategy. Think off the beaten track and use smart tactics to generate traffic for your Quora responses. Use the following rules as a guide:
Include meaningful information in the profile reference
The profile reference is a line where you briefly introduce yourself. It appears above every answer you write. What information you include here is crucial, as the profile reference will catch the reader's eye first of an answer. If you include your brand and domain here, you will immediately achieve an effect on your brand awareness.
In addition, users initially view every answer with skepticism that was not written by an expert. A domain name in the reference helps establish credibility.
It is also useful to include your job title. If anyone here mentions being an engineer and the answer is about SEO, readers are not taking their advice seriously.
Therefore, include as much information as possible in the profile reference. Give readers a reason to trust you and visit your website (likeEdward Lichstein it does).

The domain name is not clickable, but it is clearly visible. Use an appropriately marketable domain name. It should appear professional and credible, easy to pronounce and not be too long.
Write an appealing profile text

The best tip for success in the online world is to think like a customer.
Who is visiting your profile page? Those who like your answers and who want to know more about you. With a little luck, these users will become new followers.
So invest a little effort to make your profile text appealing. This also includes a call to action that asks users to visit your website. You can also offer other options, such as your secret weekly newsletter.
Guide users through responses to your website

In order to get clicks on the link on your website, you need to provide the readers with the perfect answer. Writing the SEO texts is the key to success.
Do you see what I did here? Instead of explaining what skills you need to write successful answers, I've linked an article that has the details. This creates a strong incentive to click.
Do the same in your Quora answers.
If you are a beginner and you are still unsure of yourself, take some time to read some of the answers with lots of positive reviews on Quora. Look for the similarities that make these answers so popular.
How to Use Quora Answers to Drive Traffic to Your Website:
Write incomplete lists. If your answer consists of about seven points, present only three of them and invite the users with a link to read the rest of them on your website.
Use internal links intelligently. When a user arrives on your website, they should find well-placed links that take them to other parts of your website.
I will go into more detail below on how to write better texts.
3. Find trending topics
Millions of Quora users ask thousands of questions every day. If you use the platform regularly, you will come across content ideas in your Quora feed that you would otherwise have missed. People ask questions that are not easy to find on the Internet. This is because we face individual problems every day that require individual solutions.
For example, every new iPhone model brings many new features and buyers immediately start asking questions about how to do this or that with the device.
This is where the experts come in, answer the questions and share their experiences. They get a lot of search engine traffic because they are the first to offer the answers to these questions.
tip: Enter the beginning of a question in Quora's search box to find questions that can give you content ideas.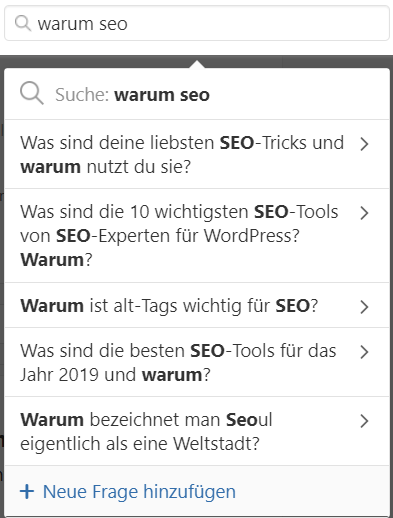 Quora also offers useful filter functions to the left of its search results. These can help you be the first to answer questions and thus attract readers.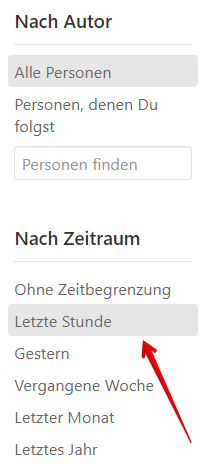 4. Trust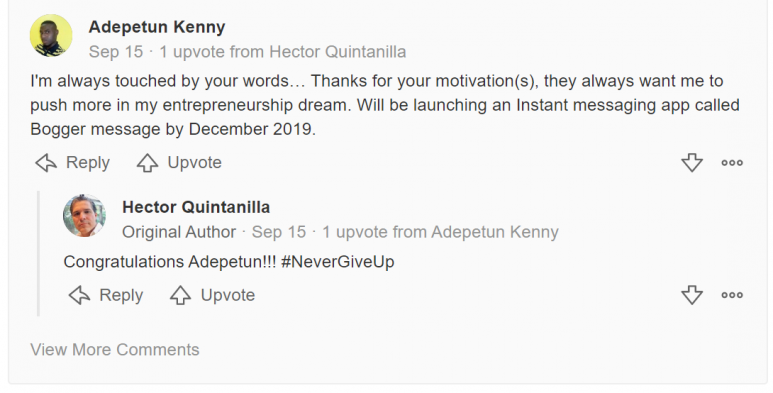 Here you can see a comment fromAdepetun Kenny, who thanks Hector for his answer. When you receive comments like this, you will have won the trust of your readers.
Make an effort to write useful responses and reply to comments to help cement your relationship with your followers.
Research keywords with Quora and SEMrush
Now let's see how we can use a combination of SEMrush and Quora to find the best keywords for our business.
Step 1 - Get SEMrush Data:
Go to the SEMrush domain overview and enter quora.com. The US database contains data for 28.1 million keywords. New ones are added every day.

Quora is a multilingual website with rankings for millions of keywords in different countries. The SEMrush database contains keywords for 190 regions and countries (see SEMrush in numbers for details). Here is the domain overview for Quora in Germany:

Step 2 - filter the data
Raw data is useless without the right filters. SEMrush offers you all the filter options you need to find the perfect keywords.
Here are the three most effective filters I use:
Filter for keywords that trigger a featured snippet on Google. Why? Because this indicates that Google believes the topic is important and the pages shown in the snippets are valuable. We can learn a lot from the snippet, the keywords it contains and the page behind it.

Sometimes you can beat Quora with your blog if your website is optimized to the latest standards, is considered useful by Google and has backlinks. (Here are 10 SEO Measures That Will Take You To The Top.)
And the best?
If you write a comprehensive answer on Quora for those keywords that trigger a featured snippet, you have a better chance of getting search engine traffic for your answer, and therefore your blog too.
They do not believe me? Here's a keyword I picked this way: the exclamation "winner winner chicken dinner", with which one celebrates a victory in a game or a game of chance in the USA.

And here you can see how Google serves the keyword: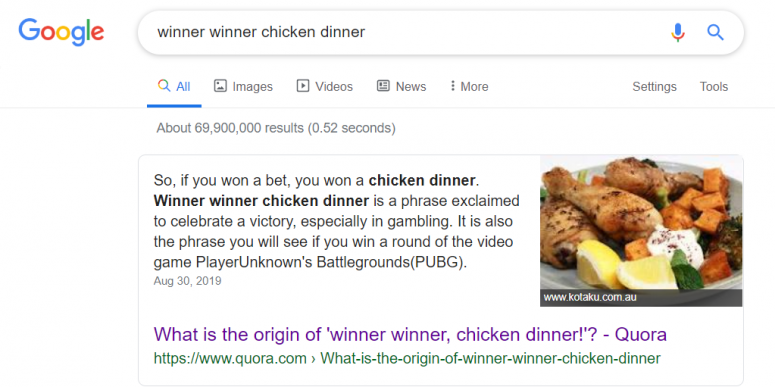 Quora only has ten answers to the question.

At the same time, many people are looking for this phrase.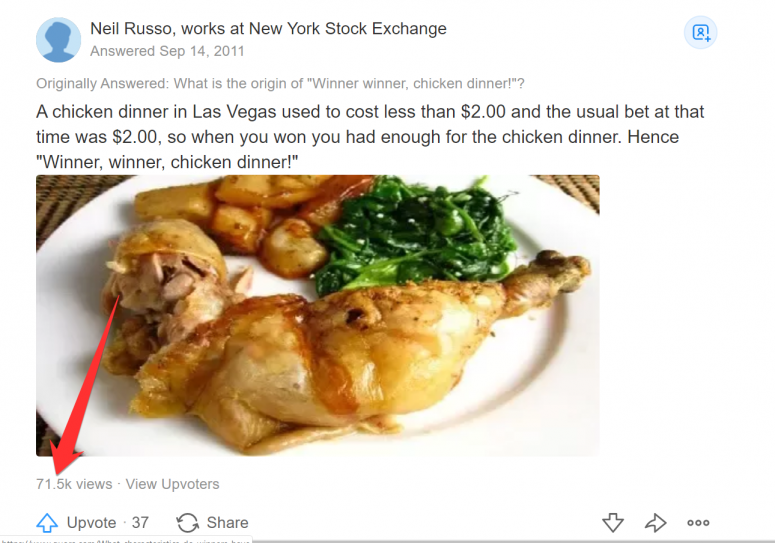 You may now be wondering how to use SEMrush to find targeted keywords for your niche.
To do this, define another condition with a keyword that relates to your niche. In this example I have "Laptop"Entered.
This condition filters out keywords that contain "laptop". In addition, these keywords take the "zeroth place" in the search result, i.e. the highlighted snippet.

The result shows that 1416 different search phrases containing the word "laptop" return a Quora answer as a highlighted snippet.
Tip: You can also embed YouTube videos in your Quora responses if you are producing relevant videos. Of course, these videos need to be professional and engaging.
Not all Quora keywords trigger highlighted snippets. That's why we use the position filter to get more keyword data.

Set up an advanced filter for the Number of words one to find long-tail keywords with low competition. Here I have set the search to keywords with more than three words.

This is one of the best filters in SEMrush because it helps you find low-competition keywords instantly. The results are the total number of web pages that are recorded in Google's database for the specified keyword.
For example, Google finds more than 80 million pages for the search term "quora". This means that if you want to be found for "quora" you have to expect strong competition.

I know what you're thinking now: why not just use the Google Keyword Planner to find low-competition keywords? Quite simply: In my experience, the SEMrush results filter delivers better keywords.
Tip: For most keywords, the number of SEMrush is not reflected in the search results, since Google also includes approximate hits. So I use a search operator to only get the pages that get the entire keyword in the title, because these are probably optimized for that keyword.
So i have"allintitle:" (all words should appear in the page title) and the phrase "Best Gaming Laptop Under 10000As Google shows, only 141 websites are vying for rankings for this keyword.

With the SEMrush filter, you can easily find keywords for which only 50 pages are optimized.

Step 3 - Write for a Quora Ranking
Now we come to my favorite topic - how to write answers that get better rankings on Quora.
Note: The following descriptions of Quora ranking factors are based on my own experience with the platform.
1. Detailed answers
A long, high quality answer is always better and gets higher ranks on Quora and Google.
A detailed article can also be found on Google for more keywords.
Can i prove that
Yes. Let's take this article as an example: https://www.semrush.com/blog/content-marketing-strategy-guide/. It goes into detail and is found for more than 300 keywords.

Always use your target keywords when writing a Quora answer. It increases relevance if you include the question keywords in the answer:
2. Pictures
A picture at the top of your answer will attract attention. It is important to use an image that matches the content of the answer.
Pictures have an effect on people. Use images wisely that express:
Tip:
If you start your answer with a compelling story, you're more likely to get interested readers. That's how it goesHector Quintanilla: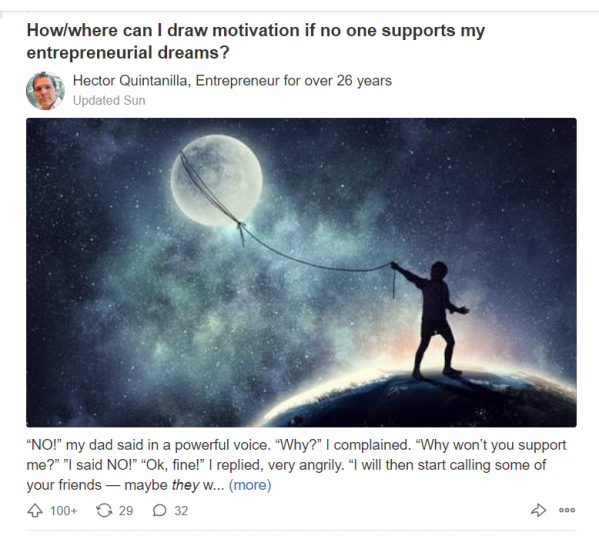 3. Reading time
The more time readers spend on your answers, the greater the chance that it will improve your rankings on Quora.
Tip:
Use these tips as a guide when composing a Quora answer:
Use bullet lists
Use italics
Use important keywords and related words
Use quotes
Use attention-grabbing images
All of this will keep your readers interested and will result in them spending more time on your response.
4. The weight of previous answers:
If in the past you've only written responses that don't generate interactions, your chances of ranking well on Quora with future responses are less.
So, write rich and useful answers that will gain the trust of your followers. The answers of every Quora user can be found on the profile page.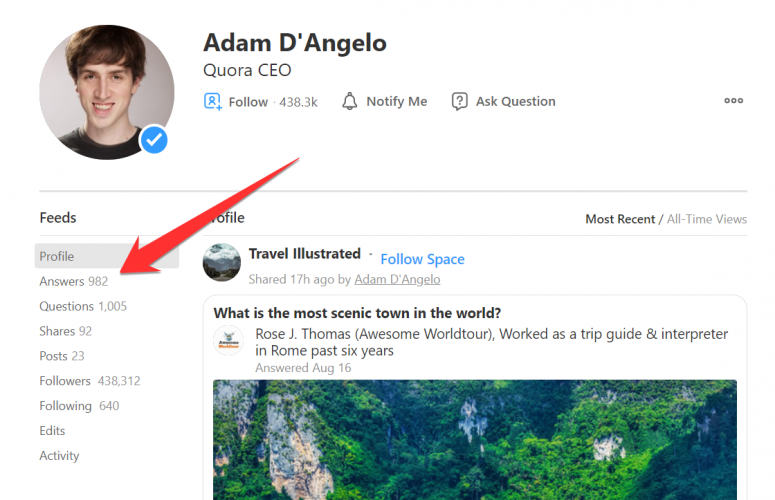 5. Current content
This is the single most important factor that marketers often overlook. Many of my answers are more than a year old, and as I update these old answers, they move up in Quora.
So update your answers regularly to increase their relevance for users and search engines.
6. Followers

High-quality followers help to quickly establish visibility for your answers by sharing your answers and rating them positively.
Focus on a niche to get relevant followers. Ultimately, with irrelevant followers who don't care about your answers, you lose your credibility.
High-quality followers have the same effect on Quora as subscribers on YouTube. Relevant subscribers to your YouTube channel watch the videos and keep coming back, which increases the rankings of your videos. It works similarly with Quora. Good Quora followers increase the reading time of your answers and rate them positively, which will benefit your rankings.
Step 4 - watch your response
After you have published an answer, it is important to observe its performance.
Create a Google spreadsheet and evaluate your Quora report weekly or monthly, depending on how much time you can spare.

Do you want to copy the Quora tracking table? You can find it here.
You don't have to create a new column for each day; even the tiniest changes are saved in the course of a Google spreadsheet.

In conclusion
Quora has become an integral part of everyday life on the Internet for many people (more than 300 million users). The platform offers a fruitful opportunity for companies to market products and blogs to their target audience.
There are some crucial ingredients that cannot be missing from a success strategy for Quora. These are:
Convince yourself of your qualifications in the profile reference and include your domain name.
Achieve good rankings on Quora and in search engines by using SEMrush for keyword research and enriching your answers with images and videos.
Use various techniques to direct readers of your responses to your website.
Build intelligent internal links on your website so that the visitors you have won stay for as long as possible.
Have you ever used Quora as part of your marketing strategy? Let us know what you think of this in the comments.