7. Home appliances
Very strange, you will think now. Since when have household appliances been a source of gluten and, above all, since when do you eat them? Household appliances then become sources of gluten and can be problematic for gluten intolerants if there are e.g. B. is a toaster in which gluten-containing bread was toasted beforehand and as a result it is still full of gluten-containing crumbs, which can then also end up on the subsequently toasted gluten-free bread.
Even a flour mill should not become a source of gluten if someone who is gluten intolerant lives in the household. No cereals containing gluten should then be ground in this flour mill. Caution is also advised with the grill, on which gluten-containing rolls or breaded schnitzel were grilled.
People who are extremely sensitive to gluten should therefore have their own household appliances, which no other family member may then "contaminate" with gluten-containing foods and which then cannot become dangerous sources of gluten. In addition to the equipment mentioned above, this also includes the flaker.
8. Lip balm
Some cosmetic products - such as lip balms and toothpaste - can be sources of gluten. They are also swallowed to a certain extent automatically. Here, gluten-sensitive people should take a careful look at the product content lists, which will show whether they contain a hidden source of gluten.
If ingredients with the terms Triticum (wheat, e.g. Triticum aestivum, Triticum vulgare), Hordeum (barley) or Avena (oats) appear, then gluten contamination can be assumed.
9. Vitamins, Supplements, and Medicines
Many vitamins, dietary supplements and medicines can also be sources of gluten. These products often contain fillers. Often it is gluten-free corn starch. However, it can also contain gluten-containing fillers, so when choosing such products you should carefully clarify what exactly it contains in order not to accidentally swallow a source of gluten.
In the case of celiac disease, which resents even the smallest traces of gluten, when shopping or dining in the restaurant / canteen you should be very careful to only select truly gluten-free products and avoid potential sources of gluten.
Gluten sensitivity without celiac disease does not require a very strict procedure. However, one should at least consider the possible gluten sources described in points 1 to 4 and avoid them as much as possible.
display
Distance training to become a holistic nutritionist
Are you interested in what's in our food and want to know how nutrients and vital substances affect the body? Do you want a healthy life for yourself, your family and fellow human beings? Nutritionists are popular - but the holistic aspect that is needed for sustainable health is often forgotten when giving advice. At the Academy of Naturopathy, you will get to know the connections between lifestyle and diet as well as physical and psychological well-being.
That educates interested people like you in around 16 months to become a holistic nutritionist out.
Is this article worth reading?
Share this article
Notice on health issues
This information is passed to the best of my knowledge and belief. They are intended exclusively for those interested and for further training and are in no way to be understood as diagnostic or therapeutic instructions. We do not assume any liability for damages of any kind that arise directly or indirectly from the use of the information. If you suspect illness, please consult your doctor or alternative practitioner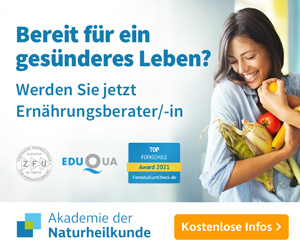 Subscribe to Newsletter
Exciting information about health and nutrition
1x per month
Login Successful. You will shortly receive a confirmation at the specified email address.
With your registration you allow the regular sending of the newsletter and accept the data protection regulations.
HEALTH CENTER © 2021 Neosmart Consulting AG. All rights reserved.