Which is better all or nothing
Daily soap "All or nothing": On being above and below
Sat.1 dares a clever, bitter soap about ascent, classicism and the subtle differences. But unfortunately she does not find any audience.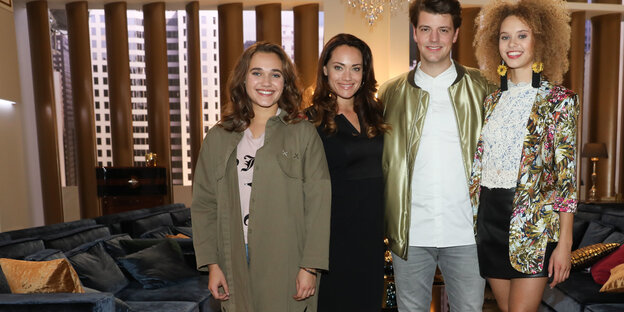 Are they playing badly or are the roles so absurd on purpose? Photo: dpa
Nothing that Sat.1 ever produced appealed to me in the last 35 years of my life. Since the end of October, however, no Sat.1 format has been more unsuccessful or better than "All or nothing" - a fast-paced 25-minute daily soap about four precarious strangers in Berlin who learn: They are illegitimate children of the dead construction millionaire Axel Brock. Widow Melissa, mother of two legitimate children, fights with and against the new heirs for company shares.
It was foreseeable that, as a fan of the glamor soap "Verbotene Liebe", the cultivated, educated women in executive chairs and penthouse would appeal to me. But not that German eve sprinkles in every scene ask ugly, tough questions about distribution, fairness and the price one pays in order to rise. To stay on top. "All or nothing" has a dark joke. Tempo. And the courage to show deficits even in the most sympathetic roles, especially class thinking.
In any social kitsch plot, Daniel, homeless, would have the "heart in the right place" and would teach rich people "what really matters". Here he remains an alcoholic, avoidant. Bubi Jascha hisses darkest FDP social Darwinism: an Ansgar von Lahnstein, shortly before graduation. But the hatred of his mother hits a nerve. Because Melissa is constantly wavering: as boss and moral authority. Could their millions make the world a better place? Did she avoid such questions throughout marriage?
Jenni's parents sell sausage on Wittenbergplatz. Heiress, brat, cleaning lady Jenni wants to team up with Tarek in the Brock office. A Cinderella story? No: Neuköllner Tarek knows what compromises you have to make as a climber (and man of color). Secondary school student Jenni doesn't even know the word "mentor".
Racism becomes an issue
The cultural scientist John Fiske says: Figures fascinate as soon as they show contradictions. Can be read against the grain. Is Chelsea, Afro-German influencer, a narcissistic joke? ONE paradoxical sentence is enough for me to take the role seriously: "It's not about the money." Suddenly a lot can be told about attention economy, sexism. And racism: Melissa decorates her living room with black servant statues - and describes Chelsea's Afro as "so very crazy hair".
Such abysses remain in the room for a long time with pleasure, unsolved. Fingers tickle wounds, like in US series like "Shameless", "Succession", "Ugly Betty". But a soap has 200 episodes and more annually: huge narrative areas; Space for all perspectives, constellations, on the one hand and on the other. Is the role of Boris poorly played or is it intentionally absurd? How does the series increase now that the script team saw finished scenes - can focus on the strengths and quirks of the ensemble?
Mon-Fri, 6.30 p.m., Sat 1
All episodes are available on sat1.de
At GZSZ, many characters with around 18 become self-employed, entrepreneurs. "All or nothing" doesn't heave takeaway food into the executive chair so quickly: Anyone who gets something here takes it away from many others. Whoever rises has to shed ballast. And everyone at the top weighs up which ideals and principles they can afford - without slipping.
Time to tell
"Whatever it takes", Imagine Dragons roar in the opening credits. It takes a lot. Because being above and below draws energy, makes you petty and angry. For years I could watch as almost 20 characters try to overcome the damage that their social position inflicts on them. "I always thought: You are the [one, only] of us who can do it," Bockwurst-Mike praises his cuckoo daughter Jenni. What does a sentence like that with Brother Basti? "All or nothing" takes all the space to explore such abysses.
The soap is produced by Producers at Work, a small company whose more agreeable telenovela "Anna und die Liebe" lasted four years on Sat.1 from 2008 onwards. With "All or nothing", producer Christian Popp wants to tell a much "broader" story: to give space to characters that rarely appear in soaps; show more than the typical "love story from the perspective of a young woman". But the ratings have not improved in the last few weeks, they probably stand for an early end to the daily soap.
It would be over with the tortured faces in "All or nothing". Because everyone suffers there. Not in love. It's about the circumstances: "You know how it is. To have nothing. And to know that nothing will ever change in your life. "