How do I start teaching guitar
Give guitar lessons online
How Offer guitar lessons online for guitar teachers and music schools in crisis. What equipment you need and how you use it so that your students can continue to learn to play the guitar.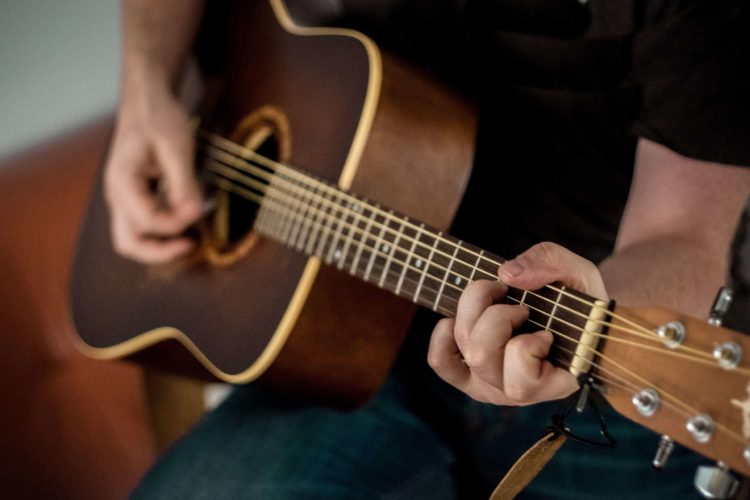 Guitar Lessons Online - Find Out How To Offer Your Music Lessons Online!

From Malik Seidu
Giving Guitar Lessons Online - What You Need To Know
If we can't meet in person, this is your best option: Offer guitar lessons online. In this way, you prevent a total loss of income and, in the best case, build up a new line of business for the future.
The good news: In the age of the Internet, online learning is easier than ever to implement. With the internet you are flexible and you have no time frame to which you are bound. Whether you are a late riser or an early riser, you can offer your guitar lessons online, anytime and whenever you want.
Your students can participate from home and will have just as much fun learning.
Give & offer requirements for guitar lessons online
a good internet connection
a calculator and
a webcam
For years, a number of guitar teachers have successfully offered tutorials, video courses and other online courses on the subject of learning guitar on the Internet: How to hold the guitar neck, read the tablature or play with the pick - all topics related to playing the guitar are taught online.
In this guide you will find three different variants with which you can impart your knowledge from home and continue to earn money.
Also read: Connecting a microphone: headsets, clip-on microphones & studio microphones
Price for guitar lessons online
If you have given individual lessons to your guitar students up to this point, you can now use your webcam and offer your guitar lessons online via computer. This should be the fastest way to make money on the internet with your knowledge. But how do you earn your money with it now?
Should you simply continue to teach your previous students via the Internet, you can take over the price agreed with them (if they agree). When it comes to new students, you should research in advance who your direct online competition is. Here you can find out the usual prices.
Now of course you still have to figure out how much money you need for your maintenance per month and how many hours you can realistically give per month. Of course, you have to note that the administration, bookkeeping and making appointments also take time. You cannot bill your customers for this time, but it is deducted from your possible hours.
Payment methods over the Internet
The question still arises as to how the money gets to you. Many guitar teachers are paid in cash, others receive their money through the music school or bank transfer. Even if you want to offer guitar lessons online, you can accept payment via bank transfer - at least you can use online banking to check whether the guitar students have already transferred the money.
Another method would be to accept the guitar lesson price through PayPal. If your students do this with the function "Send money to friends", it is completely free of any costs for both parties. An advantage over bank transfers.
For aspiring guitar teachers
In order to attract attention and to draw the attention of interested guitar students to you, of course you have to get the hang of it. A simple method is to log into appropriate sites like "Superbprof". In your profile you state that giving guitar lessons online is one of your achievements. Anyone who wants to learn to play the guitar can now find you.
Corona ticker: Help for musicians, self-employed & freelancers in the event industry
Provide platforms for guitar lessons online
Having the necessary equipment is one thing. Now, of course, the question arises how you can get in touch with your guitar students. The selection is really big, there are various online video chat services available:
Skype
Whatsapp
Facebook
Viber
Microsoft Teams
FaceTime
Google Hangouts
The most popular platform, however, is Skype.
Also read: Livestream concert: How do I do it?
1. Guitar lessons online with Skype & webcam
Skype is free communication software that offers chats, phone calls and video calling. The most exciting part besides the HD quality is the option to hold video conferences with several students at the same time.
So if you not only have individual students, but want to take your guitar lessons online in small groups, you will find it here.
Another plus point: The calls can be recorded and made available to the guitar students afterwards. This could help many students to repeat what they have learned after guitar lessons and thus to internalize them even better.
In order to network with your guitar students, they all need to create a Skype account. Once you've networked with the accounts, the rest works like a normal phone call. The communication program will usually recognize your webcam on its own and adapt to it. It works just as easily with laptops, which usually have an integrated camera with a microphone.
A webcam has the advantage that you can attach it to the screen (or somewhere else in the room) so that it is easy to swivel back and forth for the optimal image section.
www.skype.com
It only takes a few minutes to set up
Before you can start guitar lessons online, you should plan some time to get the technique started. Your students will also need some time in the first hour of online learning to get a grip on the technology on their side.
In the second lesson, online guitar lessons are expected to run smoothly and the students will have fun learning to play the guitar from home and maybe want to stay with them forever.
2. Guitar lessons online with doozzoo.com
The doozzoo platform has specifically specialized in online guitar lessons; it was developed and optimized for online guitar lessons and other musical instruments.
An exciting advantage over Skype is that this software does not have to be downloaded. You work with it directly in the browser. With one registration, cloud storage, tuner, metronome, audio player and video recorder are included.
In contrast to Skype, however, doozzoo costs money for you as a guitar teacher online. However, access is free for your students. It starts with a package for five students and 15.95 euros a month.
tip
Even shy students feel comfortable taking online guitar lessons. This increases your chances of finding more students who want to learn to play the guitar.
Learn more about: Recording guitar on PC - tutorial
3. Guitar lessons online via YouTube
Another possibility is to convey your knowledge via videos and indirectly earn money with it. The most popular platform for this today is YouTube. But that also means that the competition is particularly strong here. It's not that easy to get attention. In order to generate traffic, you have to optimize your title, description, file name and other factors for keywords.
Many guitar teachers, young and old, are already making their tutorials available to a wide audience. The nice thing for schoolchildren is that you get the full range from beginner tutorials to guitar workshops for professionals.
So that you can see what something like this can look like, here are two examples (from very popular guitar teachers).
Learn guitar for beginners: Your first guitar lesson - easy & in German
Learn guitar beginners: simply in German
Yes, you can also earn money with your guitar lessons online with YouTube. As soon as your video has received 1,000 plays on the platform, you will receive part of the advertising revenue that YouTube makes with you. But to be able to assess that correctly: Relevant influencers say that 1 million plays means around 1,000 euros in sales.
So if you want to turn this into your main source of income, you have a lot ahead of you. It might sound more interesting to offer your videos online parallel to guitar lessons.
Also read: Buy a used guitar
4. Online guitar course via livestream
Another variant would be a live stream in which you give your guitar lessons online. YouTube and Twitch are ideal for this purpose. On the one hand, YouTube is thematically broader, but there is less competition on Twitch. This is because Twitch is basically a streaming platform for gamers and has only recently discovered other topics (such as online learning) for itself.
In the live stream, you hold your online guitar course in real time - just like you would have done in real life. Schoolchildren can tune in live and learn to play the guitar. When streaming, all you have to do is pay attention to who your students are - young people are not allowed to go online in the middle of the night. When you do your livestream is completely up to you otherwise.
If you make your live stream on YouTube, your viewers can rewind at any time. For example, if you don't understand something or turn on too late. Furthermore, the video will be published on your YouTube channel after the stream has been terminated.
The chat is only intended for viewers live and in real time. After completion, all others can only read it, but no longer write it. In the chat and in the comments, your students can express questions and suggestions. The advantage is that you receive criticism and suggestions directly and can implement them as a teacher.
Also read: Easy Guitar Songs for Beginners
How do I earn money with guitar lessons online via livestream?
You earn money with your guitar lessons online via the live stream as with normal YouTube videos. The more viewers watch your streams, the more money you can make. The longer a live stream is, the more advertising can be shown. However, that does not have to mean that it is clicked more.
Conclusion on the online guitar course
If you want to keep your students engaged with guitar lessons online, a personal option like Skype (or another communication program) is recommended. Unfortunately, the other variants are not available for earning money online with guitar lessons at short notice.
If you want to plan for the medium and long term, then the other options come into consideration. However, you have to be aware that the range of free and paid guitar courses on the Internet is very wide and good. You need a lot of patience for this.