Is a lake containing volcanic acid really dangerous?
17 days itinerary Jakarta - Bali
"I learned a lot about volcanoes and also about Indonesia." Volcanoes of East Java trip
"Hello
I wanted to say thank you again for the great tour. Galih was a great tour guide. It was very well organized and everything went well. I learned a lot about volcanoes and also about Indonesia. Galih also told me about the special photo tours. I might be interested in it for next year. ...
best regards
Simone B. (Luxembourg, volcanoes of East Java trip)
"Our expectations were not only met but more than exceeded" (Krakatau to Bali Reise)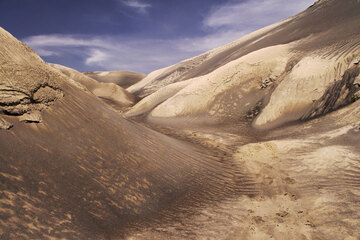 Ash fields in the Tengger caldera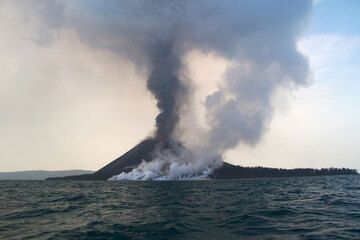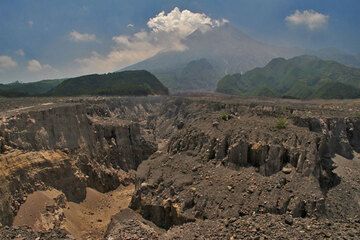 Pyroclastic deposits of Merapi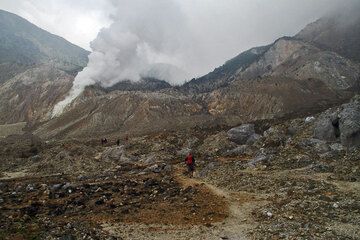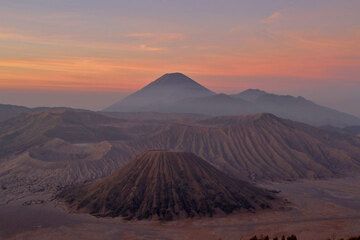 Tengger caldera at sunrise (1)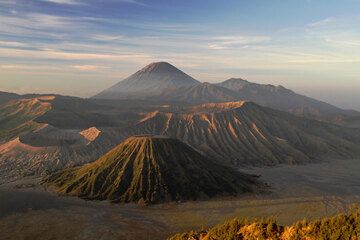 Tengger caldera at sunrise (2)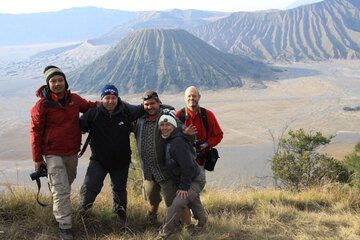 "Adventure travel, that's how we imagined this vacation.
Our expectations were not only met but more than exceeded. The Krakatau received us with full commitment and quickly covered the boat with small pumice stones, the din was deafening - the next day to see the fresh craters, to be the first to put traces in the ashes - these were unforgettable impressions.
Thanks to Andi, we had a real dream vacation and we still enjoy our numerous photos and memories today.
Special requests, no problem Andi took care of additional waterfall visits, special food requests and performed the dance on the volcano.
Even sunken flip-flops have been rescued from a rice field.
A good mix of adventure and comfort, a perfect introduction to getting closer to active volcanoes with Andi's competent knowledge.
We haven't had enough yet, Indonesia's culture and volcanoes are still holding us captive, we want more: In September it's finally time again and we're off to new adventures with Andi on our special tour. "
(Britta K., Switzerland, via Krakatau to Bali photo trip in Sep. 2012)
Feedback from Remi & Waltraud 12 May 2012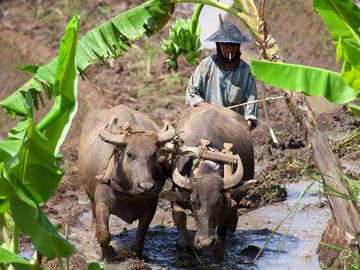 A man plows his rice field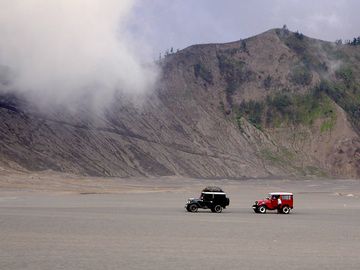 The desert in the Tengger Kaldera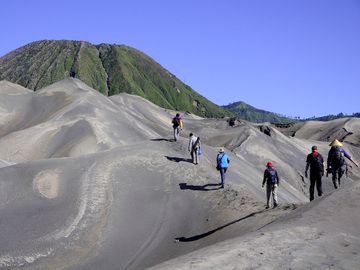 Ash slopes on the Bromo volcano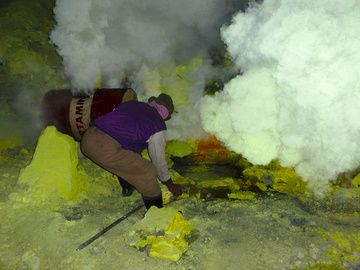 Sulfur mining on the Ijen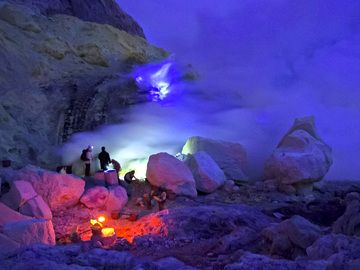 Burning sulfur glows at night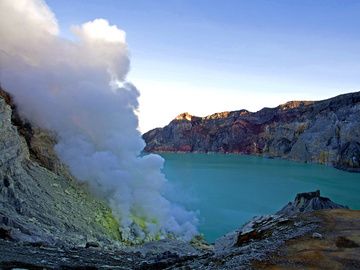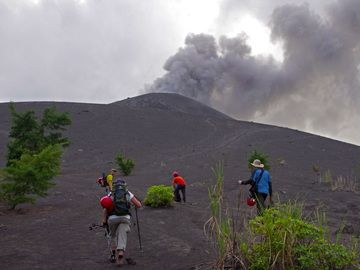 At the edge of the Krakatau crater
"
The trip was our first time in Asia. The right small group and the excellent friendly contact with Andi conjured up a familiar "family feeling" in a country that was initially foreign. My wife, who was a bit skeptical at first, now even helps me sort and edit the pictures. She never did this before. She still raves about the many impressions. This means repetition effect!

Krakatau was of course the highlight at the beginning of the trip. I really thought about booking the short trip offered. But it's a little early.

We experienced the friendliness of the residents and Andi, who took great care of us and always organized something different to nibble on on the bus. Little things often make a big difference. Andi knew the answer to all questions and his photo skills helped me a lot, as I haven't made long-term photos for a long time. We found the variety of the journey by ship, train and flight pleasant.

Bromo showed his fantastic dream landscape and Ijen was the culmination of the volcanoes. I reread the article in a previous geo-magazine. At that time I didn't know that I would even meet someone in the pictures, let alone that I would be there one day.

We were only "tourists" again in the south of Bali - before that we were almost always the only foreigners and were photographed by many people. We had to look really exotic!

A volcano trip is often classified as very dangerous at first. This will certainly deter many from such a tour. This appeals to me, but wives are probably a bit more critical here. This is difficult for Volcano Discovery to offer some thrill and safety in one trip. In any case, I recommended / recommend the trip and in November I will give a lecture in our Rotary Club. "
Peter from Denmark about the Krakatau special trip
"Hello Tom! My return trip went without any problems. As I already told you, the trip to Krakatau was the fulfillment of a lifelong dream to me. To experience an active, world-famous volcano, you Doni, Marco and everyone else were great company. I enjoyed spending the time with you. It was a very nice experience and I would do it again anytime. Sincerely, Peter "
Feedback on the Bromo-Semeru-Ijen trip
"Hello Tom,
now we're back from Indonesia for some time. We just wanted to give you a short feedback, everything went perfectly!
Doni organized everything great, we were up on the Semeru, however
he wasn't very active. A nice hike! Bromo smoked heavily and there were a lot of bushes on the entire rim of the crater, unfortunately! Then Ijen, we were up at night, very strong wind, real storm. Half the forest was destroyed by gusts of wind !!
But very impressive, it was a real experience! Then off to Bali for diving, also great! ... Best regards and Thank you again for the great tour and the contact with Doni, who has become a real friend.
Ira and Stefan from Reutlingen ". (Feedback on the Bromo-Semeru-Ijen trip)
Andy's report in the link From Krakatau to Bali tour (July 2009)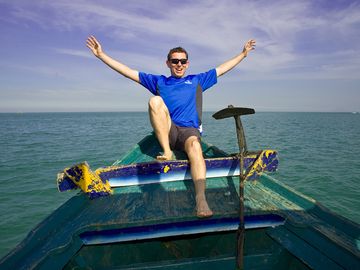 Antony on the boat to Rakata island near Anak Krakatau Photo: Tobias Schorr
"Dear Volcanodiscovery team and my tour guide Andy,
I want to thank you for the great trip. I found
the organization is very good and the food in the restaurants was extremely tasty. I think the active Anak Krakatau was one of the highlights of the trip. Every climb was different and every volcano was different. The ascent of the volcanoes was exciting and unforgettable. Andy is an experienced tour guide who will take you to the most interesting volcanoes. He has a good sense of security and knows how far he can go. I was impressed by his enthusiasm for volcanoes. I found the landscape of Indonesia to be beautiful. I can only recommend everyone to join this trip before mass tourism floods Indonesia.
I hope to be able to participate in Andy's trip to Sumatra in the future. I would love to meet him again!

Best wishes

Dr Antony V.E., Melbourne Australia. "
Katharina's feedback on the Krakatau to Bali trip (July 2009)
"Hello Tobias, hello Tom
I regret nothing !!! A fantastic, challenging tour will be imprinted in my memory as one of my most beautiful trips ever.
... I would like to thank Tobias for the good tips for even better photography and both of you for the perfectly organized tour led by really capable people. I can well imagine that this will not be the only one that I have booked with VulcanoDiscovery. The balance between exertion and enjoyment corresponds pretty much exactly to my needs, so that I feel challenged and satisfied.
Thank you again and greetings from Switzerland
Catherine "
Thea Ami's report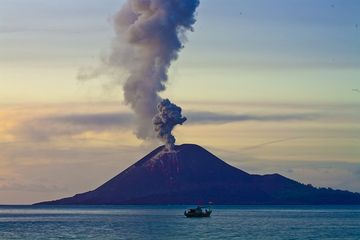 Our guide Andi and his assistant Galid talk about Anak Krakatau, our first destination. Their enthusiasm is almost palpable when they speak of the current activity of the mountain, of the fact that it is dangerous but also fascinating to watch the explosions, to see the tail of fire at night, to hear the noises, accompanying these explosions.
And when we see the first explosions of the Anak Krakatau in the distance after a few hours of calm sailing at sea, we too are caught up in volcano fever ...

Read the entire travelogue ...
Glance into the devil's kitchen "Bromo (Photo: Hanspeter Ulrich)
"Hello Tom and Doni,
Thank you very much for the unforgettable trip
across Java to Bali! The organization by the Volcanodiscovery team before the trip and the management of Doni during the tour worked out perfectly. Doni guided us competently and with a lot of feeling through a country that we did not know before. He enthusiastically taught us a lot about the wonderful nature and the cheerful people of Java and Bali.
Below are some of the many highlights:
romantic camping within sight of Anak Krakatau
and the Jurassic Park feeling of the Tengger Caldera with Bromo and Semeru at all times of the day.
The visit to the Muddflow disaster area of ​​Porong as well as the sulfur mining in Ijen was very impressive and also made us thoughtful. The long journeys with the most diverse means of transport were very varied. We enjoyed the tasty Indonesian dishes, especially in the small restaurants. On the long black beach of the less touristy North Bali we had time to review the impressive experiences of the last 16 days.
The quietly located Bali Lovina Beach Cottages is a very good choice. We will definitely recommend you and are already looking forward to the next trip with Volcanodiscovery.
A selection of our photos: http://hanspeter-ulrich.magix.net/
Greetings from Switzerland - Margrit and Hanspeter Ulrich "
(Krakatau to Bali Tour)
"Hello Tom, ... Penelope and Elizabeth left Java last Monday, and are now half way down the coast of Vietnam. I am sure they will email you on their return to the UK in about 2 weeks but I thought I should pass on some very positive comments. They both absolutely loved Java and I am sure they will be wanting to return in the near future. They found the local people particularly friendly in marked contrast to their initial experiences in Hanoi (although things are running much more smoothly now). In one of your emails, you said that Doni was very good. In fact, that is a major understatement. Penelope ranks him EXCELLENT - not only as a volcano guide but also in making sure everything ran smoothly in camps, hotels, restaurants, etc, etc. (Elizabeth also met him on the last day). ... they both had a wonderful day going to Krakatoa with Alain - from the wonderful departure port, to the volcano climb, swim, and restaurant in the evening. In & around Yogya, they admired both temples (getting locked into one because of the time & having to climb the gate), and got to 4kms from Merapi. Also, they particularly liked the hotel at Yogya - very happy with the others, but they felt this one was special. As I say, I hope they will comment further on their return, but I would like to thank you very much for organizing this trip and to thank your people on the ground for all their work. Many thanks again. Best regards Robert "(May 2006, Robert, UK)


"Can you pass on my sincere thanks to Tom Pfeiffer for his extraordinary assistance in giving us a very, very good interview on the base of Mt Merapi last week. None of us were to know how significant our interview and program was to be, until the earthquake hit us on Saturday morning and the whole value of what we were doing increased enormously.
Elliott flew out of Jakarta on Monday morning and the tapes are going straight into editing to be made into an hour program tentatively called "Fire Mountain" - this will then go to air world wide on Discovery very soon we hope.
Toms was significant and I for one will keep your contact information in case other networks need similar expertise and talent.
In return, If you can make a note of my company at www.limage.tv in Singapore, Im freelance and available to shoot these programs to the highest global standards for any client, in any location on earth. ... Thank you gentlemen, it was a genuine pleasure meeting you and working with you. yours sincerely
LAURIE K. GILBERT s.o.c.
Motion Picture Director of Photography
Film & HD Cinematographer "

Feedback from an Indonesia tour with VolcanoDiscovery:
Hi Doni! "Hey guys! What's up, what's up yo ?!"
We're all sorry we have not written to you earlier, guess we've had enough just thinking of all our good Indonesian memories. It was really about exciting and exotic adventure for us, we are often talking about when we'll do our next trip to Indonesia. There sure will be one. And as a gesture of our gratitude, we'd love to show you Scandinavia if you're ever in Europe. ... It's really amazing how different countries and lives can be and Indonesia is probably the most interesting place all the three of us have ever visited. So, of course we've told our Scandinavian friends about the amazing trips to Bromo, Sukamade, Ijen plateau, Bali, all the towns, other places and of course our new Indonesian friends. If any of my friends want tips for Asian trips, I will recommend them Indonesia and your guiding without any doubts.
Sorry, but I don't remember your wife's and older son's name, but I do remember "little Buddha" 's name - Yoni. Anyway, say hello to them all and Manitro (hope I spelled his name correctly) from all of us. And of course Annika and Fredrik send their best wishes to you. Terima kasih for the magnificent tour and wonderful company!
// Arvid E H. "(Sweden, Java custom tour)


Feedback on our trip from Krakatau to Bali in April 2007:
"Doni,
Just a quick line once again to thank you for your assistance, companionship and friendship over the last two weeks. I had a brilliant time. "(B. Barker, Isle of Man, Krakatau to Bali April '07)


Feedback about the Krakatau-Bali tour in June 2007:

"Hi Tom
I would like to tell you about my Krakatoa to Bali Tour, June 07 but I don't have enough time. I would like to tell you, I had the most magical tour of my life. To start with Doni is the most lovable, caring, and funny person I have met in many years. He looked after me like a queen making sure that everything was just the best.
Krakatoa was unbelivable, Merapi was Majestic, and Bromo beautiful. The whole beauty of Java and its people was very addictive. May I say thankyou to Doni and everyone that helped along the way, in making my life long dream come true ... the whole trip was a very healing experience and I loved every
moment of it. Thankyou Doni for making it my Magical Java Tour .... Cheers Joy Poortier Alice Springs, Australia "(Krakatau to Bali tour, June 07)




Feedback from Marco Fulle on the Krakatau tour with Tom Pfeiffer:
"MANY THANKS again to TOM for the incredibly wonderful trip to Krak. OK, tell him I will wait to exit Krak photos until next monday or tuesday, I will need many days to edit so many photos ......... ... Hoping Tom is amusing of Indonesia summer, warm greetings from a very cold Trieste !! m "
(Marco Fulle, a VolcanoDiscovery Team member after his tour in Nov 07 to Krakatau; his photos are now online on www.stromboli.net at:
http://www.swisseduc.ch/stromboli/perm/krakatau/index-en.html)

Hello Tom & Tobias,
we returned safe and sound from our trek to the volcanoes of Java.
Those were really unforgettable impressions! I was most impressed by Krakatau and Semeru. To stand on the Semeru plateau after the strenuous ascent and to see a huge column of ash go up into the air right next to it was a fantastic experience! But Merapi, Kelud, Bromo and Ijen were also really great. All in all a really great tour, for which I would like to thank you once again.
The on-site organization in particular was great.
Our guide Andi really had everything under control. In a country like Indonesia one is actually prepared for the one or other logistical problem. But not a trace of it, everything worked out wonderfully. And Andi was great, both in terms of organization and his work as a trek guide.
...
Thanks again to you and maybe see you next time!
I will also write a travel report about the tour again and publish it on my homepage. But that will definitely take a while. I'll let you know when he's done.
Many greetings from Berlin
Kay Estler (Tour Volcanoes of Java)
Group of the Bromo-Semeru-Ijen Tour (Sep. 2006)
"Hello Tom, we've been back in Germany since last Friday. The tour through Java and Bali was over
an unforgettable experience!
Thank you also for the preparation for it. Best regards and all the best for VulcanoDiscovery, Florian "(Bromo-Semeru-Ijen, Sep 06)
pH measurement at the Ijen acid lake - pH
"Hello Tom, thanks for that
very well organized
3½ weeks on the Indonesian islands of Java, Bali and Lombok. The impressions of landscapes and volcanoes but also of the people there were overwhelming. I was particularly impressed by the latter because, in their apparent poverty and modesty, they retained their joie de vivre and their sociability.
The volcanoes were fascinating
I was particularly impressed by the Kawah Ijen and the Rinjani. The tours were partly quite hard and sweaty (Rinjani) but wonderful. Doni has proven to be an extremely diligent guide who fulfills every wish and who barely allowed himself any free time. I enjoyed traveling with Volcano Discovery again - thank you !! "(Karl-Heinz)
Hello Tom,
Thank you very much for the well organized but also with trip filled with spontaneous inspiration through Java. Leaving the hectic, routine and security of everyday life behind was the greatest experience for me on this trip. The ascent to Merapi and the breathtaking sunrise at almost 3000 m altitude cannot be described in words.
Doni always in action to fulfill all wishes and to find out the best for everyone, which was not always easy with our "small group". In Bali, I said goodbye to a piece of Indonesia with a variety of impressions that I still process and which one does not experience in a "normal" vacation. Greetings Margrit "(Potsdam, June 2006)

At the crater of the Ijen (East Java)

Hello Tom,
I wanted to get in touch with you shortly after our return.
Landed safe and sound in Frankfurt on Monday morning ... Everything went wonderfully.
Really well organized! I think I really have to apologize to you for my initial skepticism. Well, the weather at Semeru could have been a bit better, but you are not responsible for that. Doni has already apologized to us several times.
Doni was absolutely great. He really read almost every wish from our lips. He was the icing on the cake, so to speak. We were in very good hands with him, but you had already announced that to us before our trip. Many of our initial concerns were quickly cleared. In retrospect we are really glad that we did the tour with you. That's exactly what we were looking for. Not a flat-rate thing that everyone can have. Individual, yet well organized.
We would definitely do it again.
At the end of the round trip at the ferry to Bali there was even a little sadness. It's a shame that it was all over so quickly. After a long time we will think back to the 5 days with Doni ... And when the time comes again, we think of Volcano Discovery. Maybe it'll work again. There is still a lot to discover ... MFG: Sven + Ina

Travel report:
Kay Estler from Berlin put together a detailed and beautifully illustrated report from this trip in August 2008:
"Hello Tobias and Tom, I wish you all a Merry Christmas and a Happy New Year and I wanted to do one more time for them
great tour to the volcanoes of Java
thank you in summer. My announced travelogue for the tour is finally finished. If you read it, you will find my enthusiasm again:
http://www.kayestler.de/Indonesien/indonesien.html
Best regards and see you next time - Kay "