Gives You Diet Soda Cancer
Starting with one diet soda per day, the risk of cancer increases
The results of the current aspartame study now showed the following: Even a can of diet soda of 355 ml per day - compared to control persons who did not drink diet sodas - leads to
a 42 percent higher risk of leukemia (blood cancer) in men and women,
a 102 percent higher risk of multiple myeloma (bone marrow cancer) in men and
a 31 percent higher risk of non-Hodgkin lymphoma (lymph gland cancer) in men.
Tons of aspartame consumption
It is uncertain which substance in the diet drinks specifically brings with it the increased risk of cancer. What is certain, however, is that diet soft drinks are (by far) the largest source of aspartame in the human diet. Every year Americans alone consume 5,250 tons of aspartame (Europeans 2,000 tons), of which about 86 percent (4,500 tons) is contained in the daily consumed light beverages.
Previous studies have been confirmed
The results of a study from 2006 are also interesting in this context. 900 rats received aspartame regularly and were carefully observed throughout their lifespan. Although this study was carried out on rats and has been criticized and questioned again and again, it is now once again moving into the limelight.
The rats that ate aspartame showed exactly the same types of cancer as the diet soda-drinking humans in the above-mentioned study: leukemia and lymphoma.
The best soda is not a soda
If you should now be toying with the idea of ​​using the normal, sugar-sweetened cola instead of your Diet Coke, then the study described has a little surprise in store for you: namely, men who have one or more "normal" Drank sugary sodas during the day had an even higher risk of non-Hodgkin lymphoma than the diet soda men. So the healthiest lemonade is clearly not a lemonade at all. Also read: Refreshing vitamin water - homemade
display
Distance training to become a holistic nutritionist
Are you interested in what's in our food and want to know how nutrients and vital substances affect the body? Do you want a healthy life for yourself, your family and fellow human beings? Nutritionists are popular - but the holistic aspect that is needed for sustainable health is often forgotten when giving advice. At the Academy of Naturopathy, you will get to know the connections between lifestyle and diet as well as physical and psychological well-being.
That educates interested people like you in around 16 months to become a holistic nutritionist out.
Is this article worth reading?
Share this article
swell
Schernhammer ES et al., "Consumption of artificial sweetener- and sugar-containing soda and risk of lymphoma and leukemia in men and women." At J Clin Nutr. 2012 Dec; 96 (6): 1419-28. doi: 10.3945 / ajcn.111.030833. (The consumption of sweetened and sugary soda and the risk of lymphoma and leukemia in men and women.)
Soffritti M et al.,"First experimental demonstration of the multipotential carcinogenic effects of aspartame administered in the feed to Sprague-Dawley rats." Environ Health Perspect. 2006 Mar; 114 (3): 379-85. (First experimental demonstration of the multipotential carcinogenicity of aspartame in the eating of Sprague-Dawley rats.)
Soffritti Met al.,"Life-span exposure to low doses of aspartame beginning during prenatal life increases cancer effects in rats." Environ Health Perspect. 2007 Sep; 115 (9): 1293-7. (Lifelong administration of small doses of aspartame from the prenatal phase of life increases cancer in rats.)
Notice on health issues
This information is passed to the best of my knowledge and belief. They are intended exclusively for those interested and for further training and are in no way to be understood as diagnostic or therapeutic instructions. We do not assume any liability for damages of any kind that arise directly or indirectly from the use of the information. If you suspect illness, please consult your doctor or alternative practitioner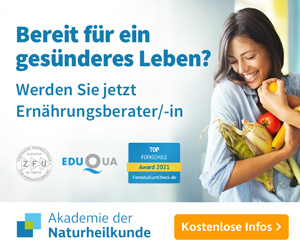 Subscribe to Newsletter
Exciting information about health and nutrition
1x per month
Login Successful. You will shortly receive a confirmation at the specified email address.
With your registration you allow the regular sending of the newsletter and accept the data protection regulations.
HEALTH CENTER © 2021 Neosmart Consulting AG. All rights reserved.